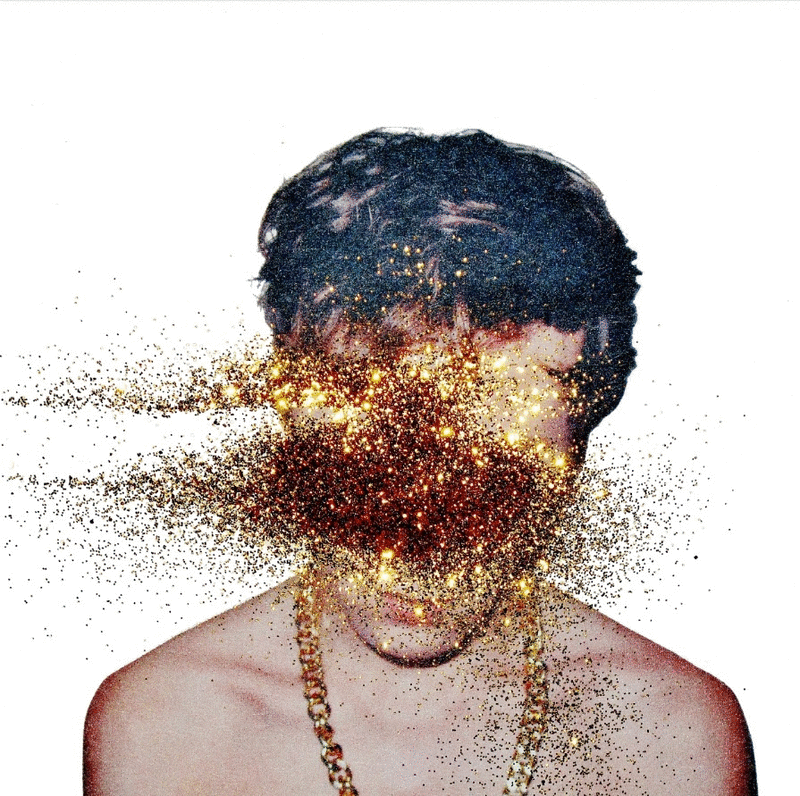 Image Copyright © 2014 Perera Elsewhere / FoF Music
I actually do most of it with one of my best friends Hugo Holger Schneider. I'Ve known him for over 10 years. @hugologie on tumblr : check him. He made the video for Bizarre and Drunk Man. He made the collages you might have seen online... from the video of Bizarre. He's cut my hair for the last decade and he did the tri-colour dyed hair look you saw on the press pics. Drunk Man was made with a macbook webcam. He filmed himself in his flat. I filmed myself in my flat and with my projecter on behind me. He edited it. We've worked on other projects before eg. and audio visual project called Resurrecting the Dread with my band Jahcoozi where we made a cape from 365 donated dreadlocks. He's designed stage costumes for me . As he's a close friend and we have a common love of music it kind of works on a really personal level. I think he's really helped me aesthetically capture the timeless-futuristic-ancient-indigenous-doom-folk-ironic-antagonistic-etheral-nihilist sound of Perera Elsewhere. It's probably also because he's heard the music since I first started making it in 2010 in my apartment. We just shot a new video for 'Light Bulb' which is coming soon. It's siiiiiiiick. really!

Image Copyright © 2014 Perera Elsewhere / Hugo Holger Schneider
Your sound can be dark yet simultaneously soothing! What kind of music did you grow up listening to?

As a teenager I got really into Jungle and DnB actually.... dub and soundsystem culture. Maybe those off-key dancehall vocals brought me some disharmony! I was into IDM... loved some dark techno... loved Warp recs and Aphex Twin etc. I guess stuff like Leonard Cohen or Tracey Chapman was the kind of more vocal stuff which I was exposed to as a kid. Soul II Soul or Neneh Cherry were also heros. But actually I never really listened to any guitar music.... so there was never this classic singer songwriter thing inside me. I dont know any covers to sing and never really sang karaoke. Maybe the fact I listened to so much instrumental electronic music influenced my love of dark minimalist sound aesthetics. But genuinely, I love loads of different music. I just make what I'm capable of making right now. Maybe that will all change who knows. I loved the KLF Chillout although I really wouldnt consider myself a big fan of ambient.

What are your plans for 2014?

Im so happy people have started asking me to do Rmxes (eg. PlanningToRock or Polica). People always thought I was just a singer and I'm just having fun with developing the way I produce. Even if something starts as a remix I can make it a cover if I want... all I have to do is sing on it. I've been making a lot of weird sketches some with vocals and some without..... I guess some of it will become the next Perera Elsewhere album or I will make some obscure mixtapes. I have a load of collabos planned with other artists ... I like going and recording analogue synths.. just experimenting with that stuff. I may make another Jahcoozi album with my bandmates Robot Koch and Oren Gerlitz. I've been asked to do an audio visual project with Hugo Holger Schneider at a theatre in Switzerland. As you can see I have a lot planned! I may have to compromise and prioritize ... but we'll see! I may go to Asia at the end of the year to try and finish off my next P.E. album... sometimes its good to take half finished material and the mic and a mini studio set-up and to get the fuck away from Berlin and focus on the finish line.

How exciting! Also be sure to check out Shlohmo's remix of Perera Elsewhere's track 'Lightbulb' as it's a little delicious!
Image Copyright © 2014 Perera Elsewhere / Hugo Holger Schneider
Finally, can you recommend our readers a good track to listen to whilst walking in the rain?
Ream Daranoi - Fai Yeni love her vocals... its from Cambodia from the mid 60s. mad track. I guess after that you could go for Thug Entrancer - Death After Life... that's if the rain becomes torrential monsoon style!

VISIT HUGO HOLGER SCHNEIDER
The art-direction you incorporate is quite unique! How do you come up with the aesthetics for your work?

The debut album 'Everlast' from Perera Elsewhere is perhaps one of the most innovative records in recent years as its unpredictable nature, contrasting atmospheres and disjointed harmonies trigger a variety of emotional responses and moods - what Hot 'N' Gold believes music should be all about! Signed to FoF music, we catch up with the artist to discuss her current projects, art-direction and plans for 2k14.
Hello Sasha! Hot 'N' Gold fell in love with your sound after hearing 'Bizarre' from your LP 'Everlast.' It's one of those tracks that accompanies a glass of red wine, moody lighting and a smokey room just perfectly!

Your latest release 'Drunk Man' is equally full of ambiance! can you talk us through its narrative?

Drunk Man is a conversation I'm having with my drunk self while looking into the bottom of my empty whiskey tumblr. I am slurring in the song. I can hardly form the words I want to say to myself. It's a battle between the two sides of my consiousness ie. the debaucherous me and my own conscience.

Your album Everlast has an almost subtle and at times unpredictable nature, which in all honesty is quite refreshing to hear these days! How imporant is the concept of 'disharmony' for you as an artist?

I dont think I do it so conciously but I just like what I like. Emotional music appeals to me when it has a depth of character or contrasting atmospheres i.e. sadness and happiness are inextricably intertwined. you can only feel one if you can feel the other. So i guess it is almost the same with tonality..... beautiful melodies can sometimes be most beautiful when combined with something disturbing. I just dont really like stuff which is too sweet... just like feel good movies. The nuances are what count to me... then i can really get off on a feel bad movie!