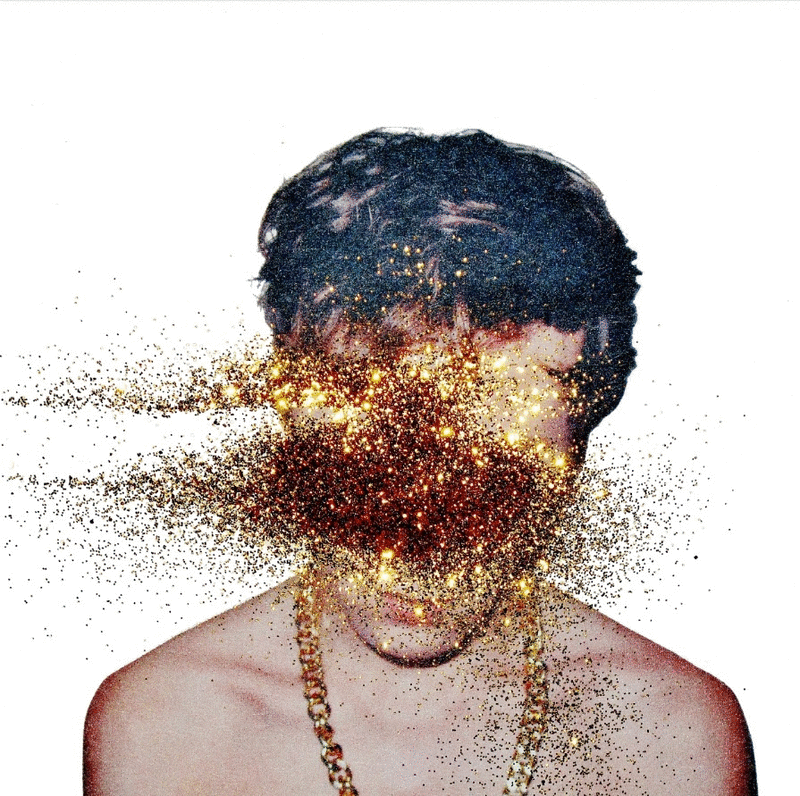 Image Copyright © 2014 Kimiko Yoshida
Aesthetically, what is the significance of monochrome in your work?
The monochrome tendency of my self-portraits, between visibility and invisibility, between appearance and disappearance, between apparition and abolition, tries to show the intangible mind's gaze. I am thinking of that saying from Zen philosophy: "A mountain is like a mountain". Tradition has it that one meditates sitting opposite a mountain. During the initial stage of meditation, the mountain vanishes. At the highest stage of Zen, the mountain reappears. This is the moment when the being is delivered from its mundane limitations and merges with the world.

Far from limiting the colour field, the yearning for monochromy exposes the sensibility to the infiniteness of colour. Through a boundless succession of layers of monochrome hues and faint tinges, monochromy uncovers a plural infinity of strata of colours which the gaze is incapable of counting. The number of colours making up a polychrome image tends to be limited; they can be counted. Conversely, the monochrome gives a chromatic infiniteness which is a temporal infiniteness. Even when the gaze contemplates ad infinitum the infinitude of the discreet shades of one and the same colour, the gaze exhausts nothing with time. The monochrome colour eroticizes the eye in an infinite way. It is a pure figure of duration wherein all imagery and all narrative are dissolved. And here, before the infinite colour, the gaze is exposed to the infiniteness of time. The figure tends to dissolve in the monochrome shades of the monochrome colour which forms the image at the same time as it re-forms it as an abstraction. The monochrome is a pure figure of duration wherein all imagery and all narrative are dissolved. Here, before the infinite colour, the gaze is exposed to the infiniteness of time. Suddenly, the past is abolished, the present becomes constant, the future is sucked in. These photographs impose themselves like a succession of epiphanies; a precise sequence, present and transparent, of thought. There is nothing like this thinking in images to affirm Time and reverse it before your eyes, to transform, recover, breathe, isolate, space, listen, pour out, concentrate, dilate, contract, accelerate, brake and multiply time.
To some extent words like 'identity' and 'gender' have become cliched in contemporary art. How do you feel about these terms in relation to your own practice?
My work is a reflection upon the division between representation and meaning, representation and disappearance, representation and absence, signifier and signified... I've turned my back on any "quest for identity" and what goes with it: appurtenances and "communities", stereotypes of "gender" and determinism of heredity. The self-portrait isn't a reflection of oneself, but a reflection on the representation of oneself. The mental allusion to a Painting of an old master introduces immaterial otherness into my own work. I am conscious that it is precisely these characteristics of otherness and dissimilarity which constitute what is unique in a work of art. It is this alterity that alters the representation and aims towards the abstraction.
I see my self-portraits as timeless and abstract studies, that is to say, portraits detached from any anecdotal reference, from story telling, from narrative of any kind. Conceived by way of recollections of art history, this series of Paintings is a mental evocation of the chefs d'œuvre of old masters. It is a symbolic transposition. Far from being a mere citation or an imitation or merely depending on resemblance, and vraisemblance, the deliberate transformation into the symbolic is only a retroactive allusion to some detail which has lingered in my memory, often without me even being aware of it.
Mutation, permutation, transmutation: it is all a matter of transformation. Art is a subtle process of transposition, an assiduous struggle with the state of things. Thus this symbolic transposition of the chefs-d'œuvre of the old masters into large archival prints on canvas is based essentially on the process of détournement. The French word détournement means deflection, diversion, rerouting, distortion, corruption, misuse, misappropriation, hijacking, or otherwise turning something aside from its normal course or purpose. To entitle a photograph "Painting" is to contradict the sense of the word and the thing itself, to set in opposition what is said and what is shown, to reunite these opposites. What the word designates and what it signifies constitute two separate and contradictory references. In the same way, what the image shows is cut off from what it signifies.
My new series of photographs, indecipherable and very nearly abstract portraits conceived with the history of art in mind, is entitled 'Painting. Self-portrait.' The conceptual protocol is accompanied by a second constraint which I impose on myself: the systematic hijacking or diversion of clothing, deflection or misuse of haute-couture garments and fashion accessories, which are always used out of their function. No object is ever used as it is conform with its initial function: dresses or skirts, pants, shoes or handbags become a headdress out of the 19th century, classic finery, historical costumes.
Hot 'N' Gold believes that masking the face often unmasks the mind! This is particuarly evident in your series 'Painting - Self Portrait' - can you talk us through its narrative?
Hot 'N' Gold is intrigued by Kimiko Yoshida'a ongoing series of appropriated self-portraits! The visual artist conceptualizes her practice as a "ceremony of disappearance" as she dissolves herself within various cultures and historical periods, in order to challenge clichéd representations of identity and gender. We pick her brains over the politics of self-portraiture, the cultural construct of masquerade and the significance of monochrome.
Whilst growing up in Japan, what inspired you to move to Paris and pursue a career in photography?

Since I fled my homeland to escape the mortifying servitude and humiliating fate of Japanese women, I amplifie through my art a feminist stance of protest against contemporary clichés of seduction, against voluntary servitude of women, against "identity" defined by appurtenances and "communities", against the stereotypes of "gender" and the determinism of heredity.

The role of self portraiture has been discussed extensively throughout photographic discourse. What's your relationship with the genre?
My quasi-monochrome self-portraits - large, square, subtly lit monochromic photographs - constitute my signature works since 2001. The conceptual protocol behind my self-portraits is invariable: always the same minimalist etiquette, same setting, same subject, same lighting, same framing... Thus, the same face is repeatedly portrayed but is never identical to itself. The more the figure is repeated, the more different it becomes. No digital editing, no Photoshop manipulations: make-up only and direct shooting.