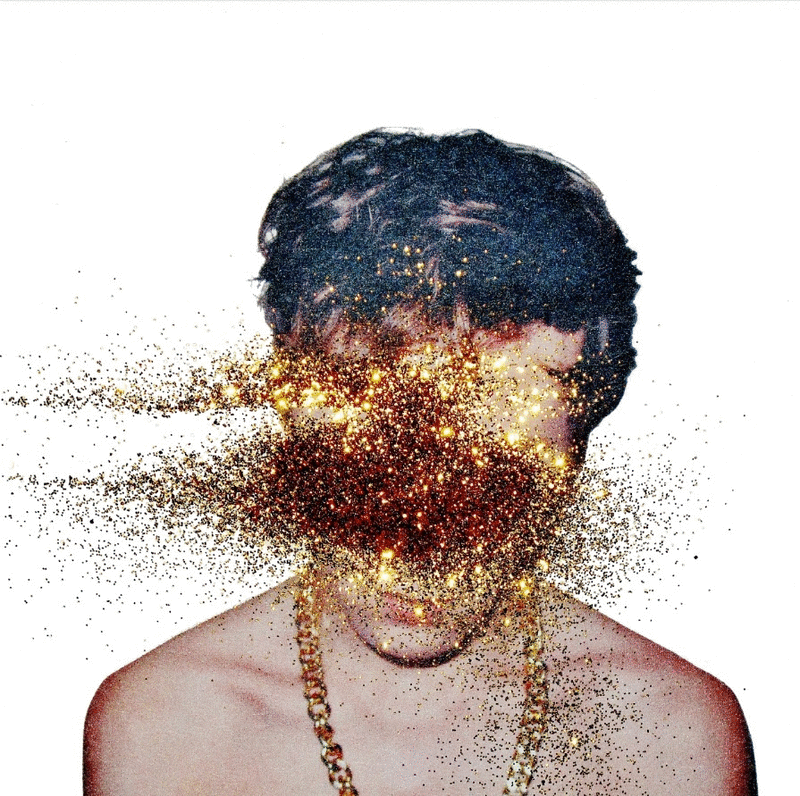 Hot 'N' Gold magazine is in love with gluttonous and absurd masquerades of James Ostrer, which are bound to leave both a sweet yet sickly sensation in your stomach. We catch up with the artist to discuss guilty pleasures, washing up anthems and his delicious new series Wotsit All About.
Hello James! Firstly, whereabouts are you from and what is your creative background?
I am from London and went to art school there. But left after I fell out with my tutor as she wanted me to photograph myself masturbating to "develop" a project further that had nothing to do with nudity or wanking. She hated me because I was a lazy pot head that thought I could get away with not working hard enough...That and I guess she must have wanted to see my plonker...
I then went on to work on film sets as a double for actors. Through that I met someone who worked as a props guy for the English National Ballet company which eventually led me to being the resident scenic artist for 7 years with them. During all of this I also part owned and worked for a still life photography company that's clients ranged from John Lewis to sex shops.
Hot 'N' Gold magazine loves the sugar-fueled absurdity in your latest series Wotsit All About! Can you talk us through the narrative and your relationship with the sweet yet deadly molecule?
Let's chat culinary guilty pleasures!
My work is often like a constantly evolving self-help course where I am the therapist as well as the client. The specific intent with the start of this project was to expose myself to such extreme levels of junk food that I would no longer want to eat it again. I hoped to change my response to the mass of synthetic and saturated colour in shops, that hums and draws me in like a fly to a zapper. I wanted to convert those feelings into something new and beautiful.

Finally, what other contemporary artists at the moment deserve our readers r.e.s.p.e.c.t?
Your press release opens with a delightful Kim Kardashian quote 'I love to eat – Kit Kats or cookies-and-cream ice cream. I need sugar like five times a day.' In your opinion, what are the comparisons between junk-food, celebrity-culture and mass-consumption?
They all support each other perfectly and in a chicken or egg kinda way i have kinda lost track of how it all started...I think at one point movie stars were talented actors focusing more on their movie roles than what they were selling but that equation is way out of balance now... to the extreme where you have reality star "actors" pretending to be happy and aspirational while living off free stuff that no-one can afford so go into debt buying...junk food gets thrown in the mix as the perfect metaphor for something that looks enticing but makes you feel empty and malnourished after consuming it like the above.

All of them and it changes each day....the thing I love most is buying an Easter egg for myself and chowing it down in one hit way before Easter Sunday. There is some rebellion in not waiting that still gets me going....
I'm a sucker for Slushpuppies and Parma Violets! What were your favorite childhood sweets?
The same as everyone else's... I don't understand with all the marketing and feedback groups these companies have why they don't do a packet without the coffee ones in...I suppose it's the pleasure you get of finding out you're not biting into a coffee one that is part of the pleasure of eating revels.
In a bag of Revels, what is your least favorite flavor?
Tony Blair so I could poison him, Elvis so he could sing Suspicious minds while Tony was choking and Quentin Tarantino so he could film it on his phone and then distribute it.
If you could host a dinner party with three famous faces, who would you invite?
Fuck you, I wont do what you tell me by Rage Against The Machine while your girlfriend thinks your a loser for listening to the same music for twenty years thinking it's funny....
Can you recommend a good song to make washing-up more enjoyable?
For one definatley my best mate Anthony Micallef whose paintings I fucking love and has an amazing show coming up this year....
Image Copyright © 2014 James Ostrer