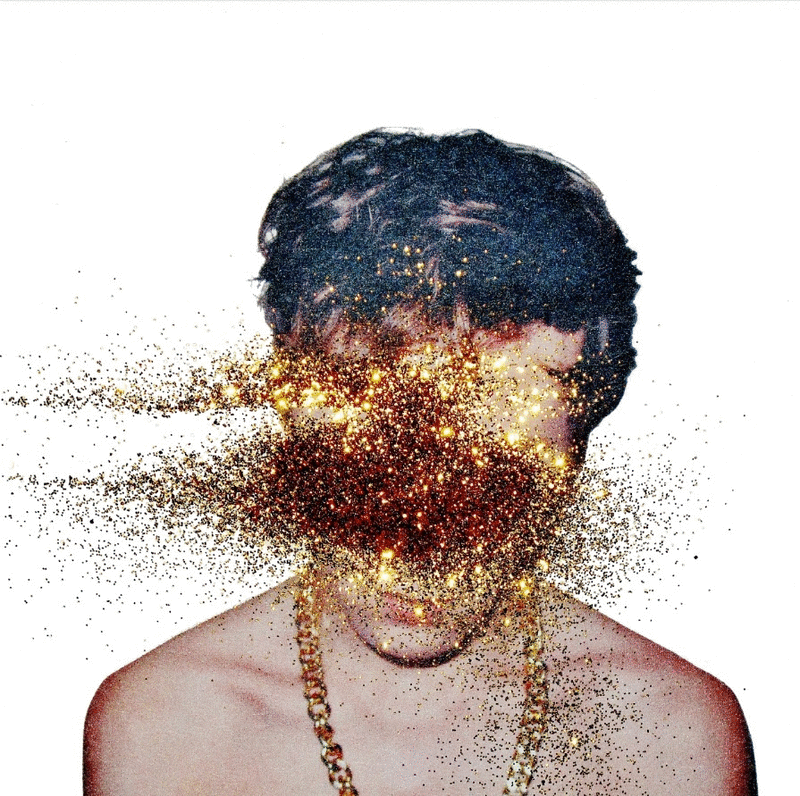 All images Copyright © 2014 Jaimie Warren
Hot 'N' Gold is a huge admirer of Jaimie Warren's brilliantly flamboyant practice! Her playful self-portraits inject some much needed fun into contemporary photography - hallelujah! We have a lovely chat with the artist about celebrity culture, dinner-parties and potential washing up anthems...
Self-portrait as Jaws Séance Copyright © 2014 Jaimie Warren
Hello Jaimie! Sometimes contemporary photography can be quite serious - Hot 'N' Gold loves that your practice injects an element of humor and fun for its audience... how refreshing! What initially inspired you to pursue a career in photography and performance?

Helllllooooo! As far as inspiring the work- I have actually been thinking about that a lot lately – like trying to trace back to when I was a kid and what I was inspired by. I know that I was always an organizer of sorts, trying to wrangle giant games of capture the flag or making haunted houses or forts in the woods, both when I was little and in high school as well. When I went to college, I had an amazing group of friends who worked really hard, and I continued to do a lot of weird social experiments with them in addition to my photo projects. I would throw weird parties in the ladies restroom, or have forty people covered in fake blood go and raid the chic shopping center. I think it's just a natural extension of who I am and what I've always had fun doing, and I'm still figuring out what works the best.
I feel like when I look back at my childhood, high school, and up to now, I have always been inspired so much more by pop culture than contemporary art. When I think about the shows I was always inspired by – from game shows (Double Dare, Finder's Keepers), variety shows (Carol Burnett, You Can't Do that on Television, The Muppet Show), horror movies, musicals, and of course, the best celebs like Elvira, Marilyn Manson, Roseanne Barr, Dolly Parton, Little Richard, Michael Jackson, Courtney Love, Joan Rivers, Snooki, Kate Gosselin, Theresa Caputo – you know, the best of the best(!) – I think that it's really these things that form my work, and I am starting to create more tributes to these characters and shows. I even hope one day to collaborate with some of these people – sort of my own version of "The Surreal Life".

A selection of images from the series 'Totally Looks Like' Copyright © 2014 Jaimie Warren
Can you talk us through the narrative behind your series Food'lebrities?
Yes, these images are all found from a few different websites such as foodlebrities.com and breadpeople.tumblr.com. The majority of my recent work has been re-creations of found photo-shopped images, and I am re-making them without any digital alterations. They may seem a little slapped together, but I didn't go to school for making sculptures or costumes. I was really inspired by the kids show I Co-Direct and Co-host, Whoop Dee Doo (www.whoopdeedoo.tv). Whoop Dee Doo travels to different cites and works with under-served youth groups to create totally crazy installations and variety shows. It is the funnest, most amazing experience EVER! I think that years of collaborating with kids and other artists to make these sets inspired me to start making my own (and Whoop Dee Doo has a very inclusive, non-judgmental perspective on the art-making process, which always helps). I also have that amazing crew who has helped me with my work throughout the years- insanely talented artists like Lee Heinemann (who makes all the custom masks and has helped me for years, Erin Zona (www.erinzona.com/), and Matt Roche, my co-host/the werewolf on Whoop Dee Doo.Overall, like Whoop Dee Doo, the process of making the images is super fun, and I have often, in other series', been able to involve my community of friends, which makes it even more fun.
JonBeignet Ramsey © Copyright 2014 Jaimie Warren
Madonut © Copyright 2014 Jaimie Warren
If you were hosting a dinner party, what would be your signature dish?
I am really always trying to be healthy every day but it usually only lasts until lunch time. (whoops!!)
I would say…. Popcorn and champagne is like, my thing right now. Is it way too lame to say pizza?
How have different environments influenced your practice and do you have an all time favorite place?
I think that for the years I was taking self-portraits without the use of sets, I was always experimenting with inserting myself awkwardly into places I maybe didn't belong, but all with good intentions and a curiosity to see what would happen. I'm a prankster by nature, and really want to learn about other cultures and behaviors and what is appropriate where and when. I think that my two major trips to Japan and India to experiment with my work were by far the most influential, with an emphasis on India. That country was so incredibly beautiful and inspiring and weird and filthy and gorgeous, and I want to go back very badly. I feel like what I was trying to get at with that those experiments in my travels, paired with what I am doing with the sets now and what Whoop Dee Doo does will hopefully one day all collide into a series of completely insane projects and experiments.
What image or characterization are you most proud of?
My most recent re-make of a Fra Angelico predella. It's a tribute to Missy Elliot, It has over 200 people in it and it is also a Stevie Wonder music video with a harmonized church choir. Get ready AAHH!!!!!!! I also have a huge Michael Jackson tribute in the works!!!
If you could reincarnate as any animal what would it be and why?
A lion! Because I really, really, really love the Lion King movie and Broadway show!!
What excites you most about 2014?
Living (partially) in New York for the first time, and seeing really amazing things all the time – having access to so much amazing art, performance, museums, festivals, and a gazillion people outside all the time. And also, making new work! I am doing this new series of re-made gifs from horror movies. Hanging out in a basement re-making myself as the brother from the movie "Basketcase" while watching reality TV is truly exhilarating.
Finally, can you recommend a really good song to make house chores more enjoyable?
YES! Can I say a few? Here are my faves:

I Just Called to Say I Love You by Stevie Wonder
I met Him on a Sunday by the Shirelles
MacArthur Park by Donna Summer
I'm Blue by the IkettesI
Smile by Kirk Franklin
Gloria by Laura Branigan
Lonely Teardrops by Jackie Wilson
Wow! That's quite a dreamy playlist... washing up just got really exciting!!!