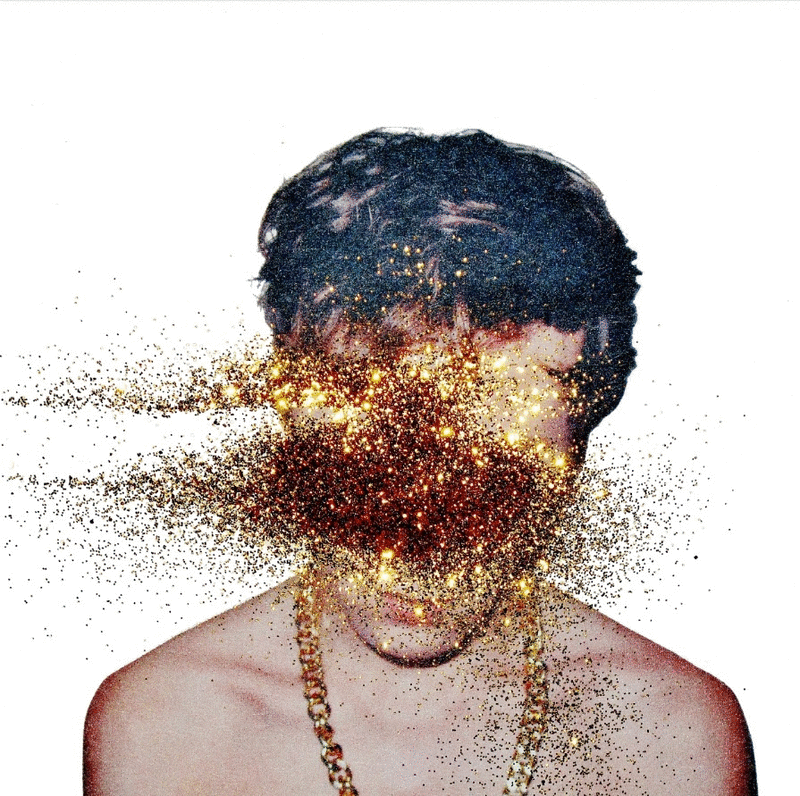 Mystical and majestic – Hot 'N' Gold magazine is mesmerized by the surreal landscapes of Scandinavian duo Inka and Niclas. In awe of their striking colour palette, we catch up with them to discuss Watching Humans Watching, the magical Aurora Borealis, supernatural sensibilities and photography's biggest cliché - sunsets!
First, thank you! We do love that mystical feeling you get when standing on some cliff somewhere feeling super small in something incomprehensible big and ancient. But our work differentiates between the physical and photographic worlds. The photograph is not a piece of reality but a piece of photography. Once the camera has transitioned the scene into the photographic world, for us, the photograph has very little to do with the physical world. And in our work we are more interested in the how the sublime is represented in the photographic world than the real true feeling of sublimity.
A starting point for one of our recent works was the Aurora Borealis which is one of the major natural experiences in all Nordic countries that makes people come here from all over. Strangely enough, we have never actually experienced the real full on "Nordic Lights", but we grew up around the extravagant images and reproductions of the phenomenon. So when we are imagining the Nordic lights, we are actually dealing with the photographic reproductions we have stored in the back of our heads.
Your series 'Saga' is breathtaking, majestic and significantly touches upon supernatural sensibilities. What does the concept of 'sublime' mean to you both personally?
It seems like people everywhere have the same need to spend time in nature and also react in similar ways in it. When we started working we thought we would see different behavior patterns in different continents and were surprised to see that everywhere we went, people were basically reacting the same way to the surroundings. So, we are all basically the same and the power of those vast landscapes are for real and brings out the good in us.
What are some of the most important things we can learn from watching other humans watching?
Watching Humans Watching started as an investigation of the human relationship to nature and the open landscape through the concept of humans as animals. For us it came to deal a lot with how the constant stream of nature imagery affect our perception of nature and the landscapes. What expectations we have of what "nature" is and are supposed to be and how we should to act in it. When we went on an organised safari to the Ngorogoro-crater in Tanzania 2008, we noticed that groups of safari tourist showed behaviors very similar to the flocks of animals in the park. We got interested in how they moved in seemingly predetermined patterns and dressed in clothes that mimicked the colors of the unfamiliar surrounding. From that we started to travel to places we knew people would go to explore untouched raw nature. By detaching ourselves from the natural environment and from the groups and individuals we found there, we were are able to approach our subjects with the same distance a nature photographer applies when photographing wild animals.
Hot 'N' Gold magazine is in awe of the surreal and fantastical Scandinavian landscapes that are presented throughout your photographic practice. Can you talk us through the narrative of your series 'Watching Humans Watching'? Where can we buy the book?
Hi! We live and work in Stockholm-Sweden since 2007, We met and became a couple while studying 2005-2007. Right after that we started working togheter and haven't gone back to working individually since.
Hello Inka and Niclas! Firstly, what was beginning of your creative journey together? Where are you both from? How did you meet each other?
Generally we are quite picky with colours, and in quite a lot of the works the colours are absolutely key. Having a fascination for the spellbinding powers that lies within a sunset we started back in 2009 to photographically deconstruct it. Looking for clues to the power we became fascinated in the spectrum of colors the sunset produces. Later on we started going around applying colors of that spectrum; red-pink-yellow-blue, using a simple on-camera flash; trying to transfer that magic of the sunset to various scenes and objects.
Since then we are often carrying out basically the same idea but later we are also more interested in the act and rituals of taking a photograph. In our series The Belt of Venus and The Shadow of the Earth we are trying to camouflage rock formations by the shoreline into the sunset behind, using a flash and filters, obviously failing. The fact that the stone really were magically glowing in this sunset-colors for a 1/1000 of a second and we couldn't even see it happening there at the moment is fascinating, the only way to experience the rock wrapped in fake sunset is through the photograph. The photograph becomes not just a product or a proof of the performative act of coloring the rocks but in itself a little piece of magic.
How does colour influence and inform your work?
Well, something simple like keeping and sharing probably, people seem to have an urge to photograph everything all the time, especially when traveling. Snapping a photograph have somehow become the default reaction when something stirs up emotions in any direction, and sunsets are way powerful and amazing. We (humans) obviously still have a need to be in the big wild and to experience nature first hand. But we find it interesting that we now also have a new and real need to photograph these scenes ourselves, even if they already have been photographed to exhaustion. In one of the essays in our book Jonas Larsen (Ph.D. Roskilde University) talks about "the ritual of quotation " which basically means the tourists tracking down and capturing images they have seen, and then at home showing their own version as a kind of a proof that they have been there.
Sunsets and sunrises are arguably one of photography's biggest clichés – so much so, that most compact cameras now have a sunset-setting. In your opinion, why do you think we are fixated with capturing these natural moments of beauty?
Inka is creative, spontaneous and have no boundaries when working, Niclas is more analysing, problem solving and technical. The best things about being two is probably that your ideas are always going to turn into something else.
Working as a duo – what would you consider your own individual strengths to be?
What are your plans for the rest of the year?
Next week we are exhibiting at Unseen Photo Fair with Grundemark Nilsson Gallery. We are showing new works including some from this summer. Also, we are part of the book series Visible Spectrum by Conveyor Arts that are planned to be released at NYABF (New York Art Book Fair) at MoMA PS1 this month. Otherwise we are just going to keep working making new material, we are going two weeks to Jamaica soon to try to do some new works involving dolphins...
Can you recommend another contemporary artist's work that you're both enjoying at the moment?
John Divola (the Zuma and Vandalism Series) Jonathan Schipper (the Slow Room and Measuring Angst series) Theo Jansen (the Strandbeest) Koen Hauser (the book de Luister van het Land)
Black Sabbath – Planet Caravan
Finally, what's a great song to listen to whilst walking alongside an ice-caped landscape?
All images copyright © 2014 Inka & Niclas
In the Watching Humans Watching series we were very specific in what we were after, sometimes almost to the point that it became somehow arranged, only the subjects were not aware of it and we are not really in control of the situation. We could be waiting for hours for a person in specifically colored clothes to step up on a cliff just when the light was good. We like it very much that, when standing still, for a couple of seconds the humans goes from subjects to objects, like carefully placed statues in the landscape. Our book Watching Humans Watching, at Kehrer Verlag is probably easiest to get straight from us at inkaandniclas.com