Hot 'N' Gold magazine has fallen in love with the kitsch 'n' kooky work of UK fashion photographer Charlotte Rutherford! We catch up with the glitter-fuelled glamour-pu$$ to discuss guilty pleasures, myspace songs and blingee.com
Hello Charlotte! Firstly, whereabouts are you from? What's your background in photography
Hiii i'm Charlotte and I dont really have a background other than been taking pics for a few years, wanted 2 have good profile pics for myspace and msn and fall out boy forums, which is why I started doing selfies lol and just progressed from there...
Hot 'N' Gold magazine is particularly fond of your series 'Gogo Philip! Can you talk us through its narrative?
Thanx! Gogo Philip lookbook was a collab with me and Soki Mak (Look her up!!!) We just wanted kind of teeny Japanese awkward fantasy lol, but in a knowing way does that make sense?
You've made some really dreamy visuals in collaboration with equally dreamy musicians! On the subject of dreams... who would you most love to make videos for?
Blood Orange, Miley Cyrus, Lana, Justin Bieber (#AimHigh) some funny metal bands, FKA twigs.
Nowadays the internet is constantly evolving and young artists are having to always catch up! What was your old myspace song?
Lool I changed it all the time but pretty much always Panic! at the discoooo \m/
Are there any films which have significantly influenced your creative process?
Urmmmm mostly James Bond films made me want more glam babes in my pics!
What are your guilty pleasures?
#noguilt i luv eastenders?
VISIT CHARLOTTE RUTHERFORD
Can you recommend another contemporary artist that deserves our readers R.E.S.P.E.C.T?
Soki Mak (Stylist) Maisie Cousins (Photographer) <3 <3
What's the best thing you've bought recently?
Ripped denim hat wiff texico badge on, hee haw tv show dungarees!
I'm doing lots of video atm and making story boards for personal projects (i havnt rlli dont any personal work in a year) really really trying to find time to learn to do airbrush art like graffiti stuff 2.

What future projects are you working on at the moment?
Finally, for a new Hot 'N Gold exclusive could you make us a blingee in relation to GOLD?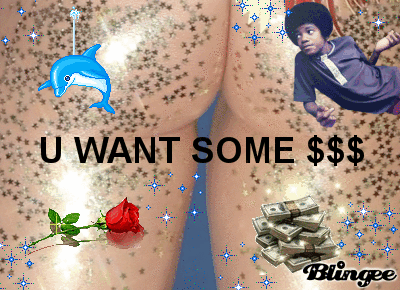 All Images Copyright © 2014 Charlotte Rutherford