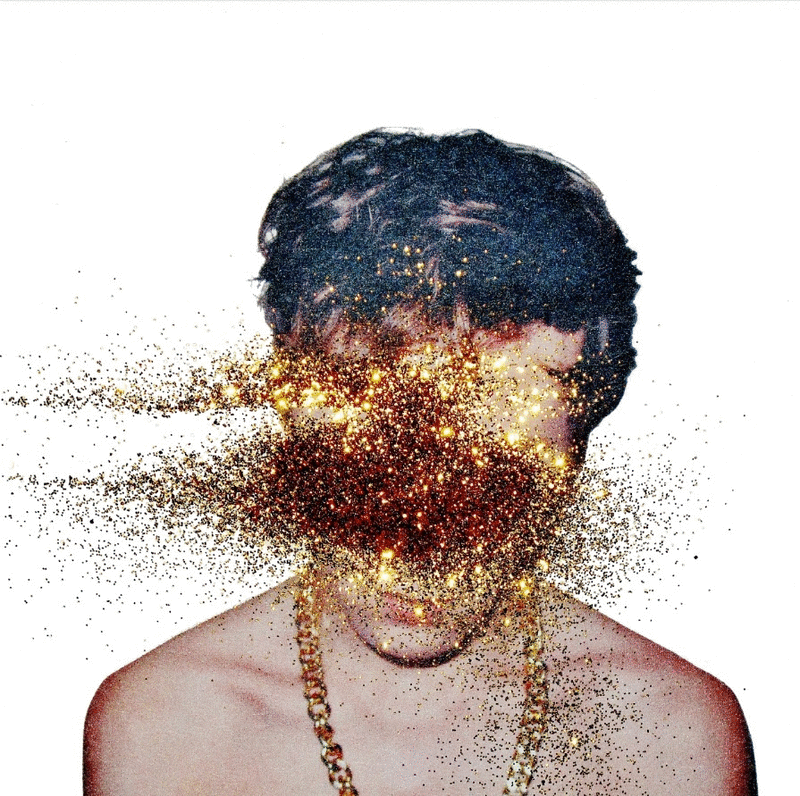 Hello Alex, Hot 'N' Gold is memorized by your colorful and immersive designs! What type of things have influenced your practice over the years?

My inspirations are really broad. I realized recently that I got a lot of my color influences from my older brothers who are graffiti writers. So it goes from Graf to Art Nouveau and Deco, to Sci-Fi and Greek mythology.

That's a hard one because sometimes I enjoy the process of something more than the outcome and vice versa. For example I enjoy making the films with the costumes and sets but the watching final film is most enjoyable. But some art works, I might enjoy the process of the painting over the final outcome. I absolutely love to draw and that is the beginning of every discipline I practice, so there is your answer!
So you had you first solo exhibition earlier in 2013! Can you talk us through the narrative of Creatures from the Kaleidoscope? What was the biggest challange you had to overcome during the curatorial process?
Sometimes you have to work backwards. You don't always know why your making a piece of work or a whole collection. The direction changed through the course and as I made more work, I realized I was really discussing ideas of existence, energy and spirituality in this dimension or another. In a past and future context, and also a very westernised context of commerciality and objectification. I worked with a very talented curator called Ryan Lanji and the biggest problem was probably for him. The problem being me! In that, I was finishing the major works while hanging them on gallery walls.
You have quite a multidisciplinary approach to making work. Do you have a favorite medium to work in?
I read that article and it did annoy me actually. I'm from south London and I know that people think everyone in east London is or even thinks they are really 'cool'. Which isn't the case but a lot of people are creative and that's why they love being within the community. Obviously it has become a very trendy area too and roads like Red Church Street are almost polar opposite to how they were six years ago. We all know how it works, that creatives move to undesirable areas because they are cheap, and in turn the areas become more interesting and desirable. Obviously this does get capitalized on and the area becomes really 'cool' and expensive. But! It is still a creative area with lots going on- I say don't moan about it when there are some really shit places you could be instead. It is annoying when you suddenly can't afford to live in your area and the people who moved in moan about hipsters and those are the people probably writing the articles. And It does seem to happen faster and faster but that is our culture all over, completely transient. But also if it's not hipsters it's yummy mummies and prams, people just love moaning!
Alex Noble is definitely a creative a force to be reckoned with! Adopting a multidisciplinary approach to his practice, Hot 'N' Gold shares a quick moment with the London based artist to discuss his kaleidoscopic aesthetic, the art of installation and East London's "subcultural" reputation...
Hot 'N' Gold believes that installation art allows a great sense of artistic liberation, as it hasn't been dictated by any other traditional medium that has gone before. What's your personal relationship with installation art as a method of communication?
I agree it does feel like there are no pre determined ideas for installation works. I really embrace the scale and also the mixed media aspect. I love that they can be completely immersive so you exist with in them and have a more whole experience.
All images Copyright © 2014 Alex Noble
You have designed costumes and sets for the likes of Lady Gaga, Paloma Faith and Florence Welch! In an ideal world, who else would you love to design for?
I'm not really thinking about that at the moment. Infact I am... but I'm thinking more about architecture as a muse. The connection between housing and clothing and structural and cultural parallels.
Let's talk East London! You used to be the curator at the Dalston Superstore... Can you tell us more about that?
I had a lot of fun there! There were no rules so my process was to find artists to exhibit and then push their work into full immersive exhibitions that really changed the landscape of the interior. I really enjoyed the group shows as you get to paint with artists so to speak.
What's your opinion on working between "subculture" and "highculture"?
They are two very different worlds although high culture desperately wants to be subversive. In subculture, your subverting with out the intention to. Subculture is obviously more accessible and a lot more real...
In recent months, people in the press have began to criticize parts of East London for its apparent "hipster reputation" What's your opinion on this and do you feel that areas have significantly changed over the years for the better or worse? Hot 'N' Gold believes that if a place is promoting the expression of creativity surely that's a good thing right?
Amen to that! What other contemporary artists deserves our readers R.E.S.P.E.C.T?
He's been around for a little while now but I love Connor Harrington. Also Jose Vigers who is a new tattoo artist as well as fine artist has a really strong aesthetic!
What are you excited to get involved with in 2014?
I've founded an ethical fashion initiative called EMG and the first cycle 'Salvage T's' will launch this summer called EMG and the first cycle 'Salvage T's' will launch this summer.
Finally, can you recommend a really good song you're listening to at the moment?