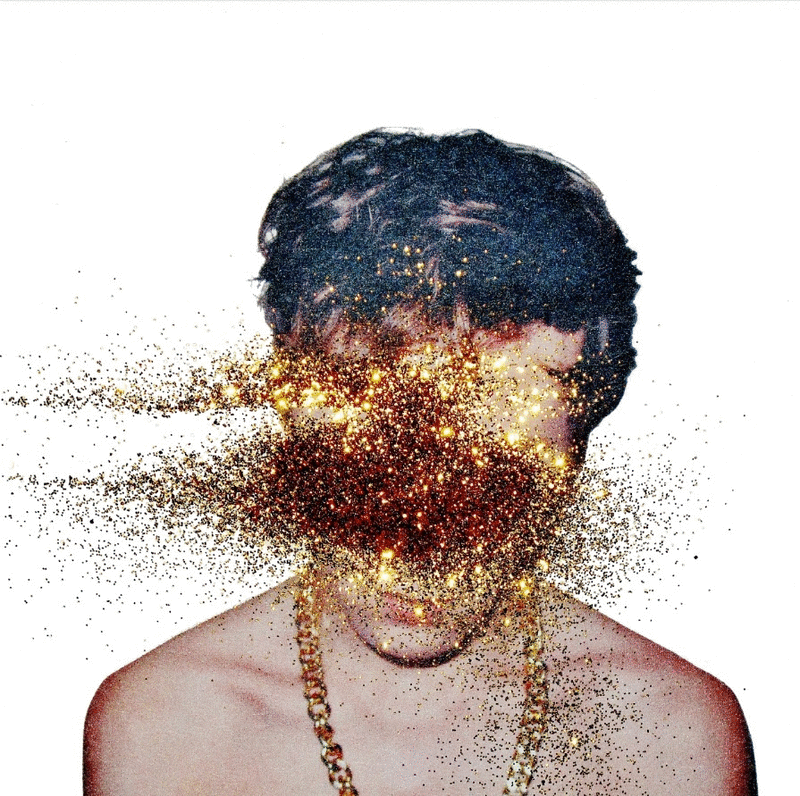 Hot 'N' Gold discovered the work of American photographer, Airyka Rockefeller, in Susan Bright's internationally sold book Autofocus: The Self Portrait in Contemporary Photography. We get a deeper insight into her practice by discussing the politics of portraiture, the 'selfie' phenomena and her commitment to travel.
From the series 'Between or Before' Copyright © 2014 Airyka Rockefeller
Hello Airyka! Self-portraiture has been discussed extensively throughout photographic discourse. What does the 'self portrait' mean to you personally and how do you use it as a form of communication?

When I started making pictures of myself I was thirteen years old... I still remember the first shoot! I had a cast from a broken right arm and I was wearing a homemade tie-dye shirt and some cut off jeans. The resulting photos were very melancholic and I couldn't even look into the camera lens. I guess it was hard to face myself, I was a bummed out teenager after all. I kept up the process, and slowly became more confident and more complicated in the self portrait photographs. I never intended the pictures to be a form of communication to others, rather my pictures were a way of whispering to myself, to see who I was, to see if there was something in the pictures that showed me something I didn't yet understand about my life.

Using a mirror would not work, for one has to look back into the mirror immediately to see their reflection. Self portraiture was an alternate to the mirror, something beyond a mirror, something less self-contriving than a mirror. My self portraiture happens more rarely these days, perhaps because I am more confident in who I am. When I do make a self-portrait, it is generally because I am in a space of limbo, a transition where I am seeking stability, a sense of connection, a sense of knowing where I belong, a sense of wanting to be at home in the space I find myself in. Self portraiture is like writing in a diary, the feeling of privacy that may one day be revealed, if it is strong enough to be shared many years later. My self portraits are only communication in the sense they are like writing a letter to myself, or to my descendents...like putting a letter in a time capsule to be buried. What they reveal cannot happen instantaneously but only takes on meaning over time.

From the series 'Between or Before' Copyright © 2014 Airyka Rockefeller
In a generation where self-portraiture has become culturally significant due the rise of social media, what's your opinion on the #selfie phenomena?

To be honest I find all the unchecked vanity and self-referentialness of today's "selfie" proliferation worrisome. The classical self-portrait is a private event, that can often prove revealing to both oneself and to someone interested in studying the details of a particular time and place, a culture, in the long run. The "selfie" of modernity is instantaneous, flippantly disposable, repeatable, public and a bit empty to my mind. The standard "selfie" perhaps shows one's "a good angle" not in an attempt to garner understanding or to get closer to some true aspect of the self, but in order to project a certain attitude to an increasingly disconnected social circle. It does have its own power, though, but it's not something I think our culture will look back on with much pride in time...

Perhaps the crucial difference between self-portraiture and the "selfie" is that the "selfie" can only ascertain that which is within arm's length. Contrastingly, the more classical self-portrait gives a context to the space in which the self exists, by showing a room or landscape, a sense of the weather or geography, etc. Surely all self portraits are an attempt to express the inner workings of someone, to communicate something, so part of me wants to support and encourage this unabashed confidence, yet the other part is a bit grossed out by the mass shift wherein youth, particularly, are seeing themselves not in context to their environments, communities or interests, but rather solely in superficial comparison of their physical features.
From the series 'Between or Before' Copyright © 2014 Airyka Rockefeller
A selection of images from the series 'The Borderland Boys: Lithuania' Copyright © 2014 Airyka Rockefeller
Hot 'N' Gold is particularly fond of your series 'The Borderland Boys: Lithuania.' Can you talk us through the narrative and inspiration behind this body of work?

The series started when I found myself visiting Vilnius to spend the summer with my Lithuanian-American boyfriend. In San Francisco and in New York before that, I had been photographing quite a lot in public parks and at the edges of the city where natural and built landscapes met. Both urban borderlands and parks have long fascinated me in that they are cultivated, designed versions of nature, half controlled but half wild. I've always been curious about the ways people feel in such environments when they are alone, maybe because I spent so much of my childhood alone in the forest where I grew up on an island in the Pacific Northwest. I've spent a lot of time watching figures move through landscapes unbeknownst to them. I know it might sound a little creepy, voyueristic even, but my aim in watching from a'far has been to allow things to be un-staged, to show something real, and one way of doing this is to keep enough physical distance between myself and my photographic subjects so a genuine gesture can be revealed, a gesture that is not coordinated for the camera.
When I first visited a swimming hole outside of Vilnius after a long, strange bus ride into the countryside, I knew I wanted to make photographs of the place. In Lithuania's public campgrounds there was a comforting resonance to my first home, and the sense of freedom and ease I felt in the forest as a child. I wanted to explore this different but resonant landscape through my camera, almost as psychological observation. I walked the same routes day in and out, along trails and around lakes for one summer in Lithuania, making landscapes similar to Japanese woodblocks with their grand landscape sheltering miniature, anonymous, could be anyone-even you- figures.
I returned over subsequent years, long after the boyfriend and I split up, to these same lakes to start making a series of portraits of the young men I found hanging out in the outskirts. I also photographed trees strung with towels, decrepit playground structures, curtained tents glowing with light, abandoned water-slides, picnic blankets with the imprints of bodies in their wrinkles, campfire residues, plenty of dogs, elderly grandmothers out for a morning swim, fishermen waiting patiently in the reeds, makeshift basketball hoops tacked onto treetrunks, groups of girls waiting at bus-stops in the woods, kids making out on blankets, and rather a lot of young men that I wanted to photograph, because they had an ease and a sensuality which moved me, because they seemed to operate in a space between child and adult, presenting themselves to my camera in a partially constructed but somewhat wild, unhinged way.
Which artists have influenced your journey as a photographer?

My first memory of art were traditional Japanese woodblock prints that my mother had all over our house; they featured tiny, insignificant figures occupying grand environments. Later I was totally drawn to the surrealist, formal beauty of Hieronymous Bosch's magical landscapes and mythical half-human figures in The Garden of Earthly Delights. In my early twenties I connected with the ethereal sculptural and video work of Shimon Attie, and the obsessive, diraristic text and photo work of Sophie Calle, which told narratives in a way that made even the most ordinary encounter utterly life-changing. Later, I fell for Rineke Dijstra's bold, intimate photographs, particularly her long-term series of young adults in the midst of huge transitions. I'm influenced by a lot of friends of mine who are also photographers that I studied with years ago; they continue to blur the line between art and documentary photography, Gregory Halpern, Ahndraya Parlato, Eirik Johnson, Whitney Hubbs, and others.
Where are your favorite places in the world and how has working in different environments over the years informed your photographic practice?

My favorite place to be is home, as I am a total nester, constantly tending to and dialing in my domestic space. Even when traveling, I love to stay in people's homes, poke around, and spend time in the kitchen learning my host's culinary speciality. My other favorite place to be is on the dance floor, totally letting go, and working out all the kinks! Laying in the sun on a floating dock on a dark, quiet lake surrounded by trees, traveling by train through India's southern countryside, or drinking honey wine in some dark wooden cave like tavern in the Czech Rebublic. Working in different environments over the years is crucial to my practice and growth as an artist- I am always looking for what really makes a place specific, what is overlooked in the outskirts of a place, and for what it is that makes people feel at home in a place. All of my photographic projects are essentially about home, community, belonging and eccentricities of local places.
And finally, can you recommend any good music coming out of San Fransisco at the moment for our readers?

I love Sonny and the Sunsets, every band member is a friend and I've been following them for many years. They are such a fun blend of surf rock, original country, alien sci-fi oddness, and beautiful pop
From the series 'Between or Before'
Image Copyright © 2014 Airyka Rockefeller